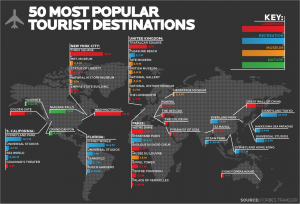 The latest release of Schema.org (3.4) includes some significant enhancements for those interested in marking up tourism, and trips in general.
Tourism
For tourism markup two new types TouristDestination and TouristTrip have joined the already useful TouristAttraction:
TouristDestination –  Defined as a Place that contains, or is colocated with, one or more TourstAttractions, often linked by a similar theme or interest to a particular touristType.
TouristTrip – A created itinerary of visits to one or more places of interest (TouristAttraction/TouristDestination) often linked by a similar theme, geographic area, or interest to a particular touristType.
These new types, introduced from proposals by The Tourism Structured Web Data Community Group, help complete the structured data mark up picture for tourism.
Any thing, place, cemetery, museum, mountain, amusement park, etc., can be marked up as a tourist attraction. A city, tourist board area, country, etc., can now be marked up as a tourist destination that contains one or more individual attractions. (See example)
In addition, a trip around and between tourist attractions, destinations, and other places, can be marked up including optional provider and offer information. (See examples)
I believe that these additions will cover a large proportion of structured data needs of tourism enthusiasts and the industry that serves them.
Trips
Whilst working on the new TouristTrip type, it became clear that there was a need for a more generic Trip type, which has also been introduced in this release. Trip is now the super-type for BusTrip, Flight, TrainTrip, and TouristTrip. It provides common properties for arrivalTime, departureTime, offers, and provider. In addition, from the tourism work, it introduces properties hasPart, isPartOf, and itinerary, enabling the marking up of a trip with several destinations and possibly sub-trips — for example "A weekend in London" – "A weekend in London: Day 1" – "A weekend in London: Day 2".
Together these enhancements to Schema.org are not massive, but potentially they can greatly improve capabilities around travel and tourism.
(Tourist map image from mappery.com)