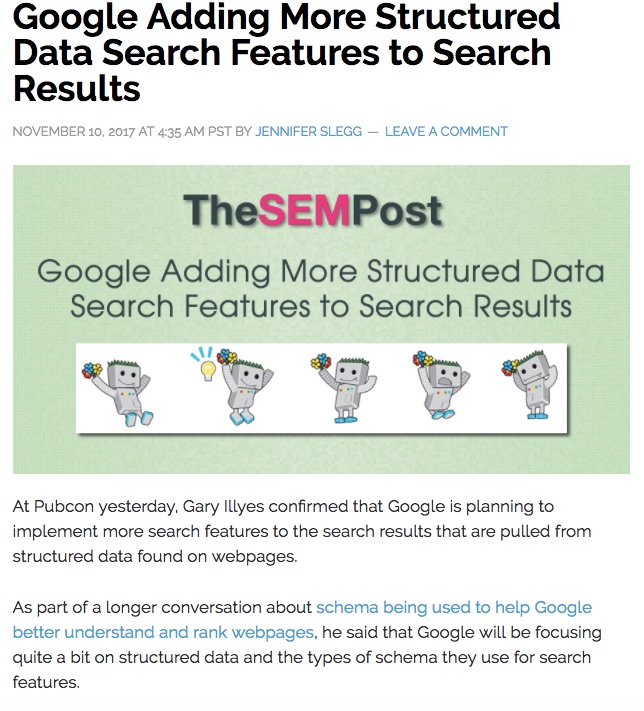 Firstly let me credit the source that alerted me to the subject of this post.
Jennifer Slegg of TheSEMPost wrote an article last week entitled Adding Structured Data Helps Google Understand & Rank Webpages Better. It was her report of a conversation with Google's Webmaster Trends Analyst Gary Illyes at PUBCON Las Vegas 2017.
Jennifer's report included some quotes from Gary which go a long way towards clarifying the power, relevance, and importance for Google for embedding Schema.org Structured Data in web pages.
Those that have encountered my evangelism for doing just that, will know that there have been many assumptions about the potential effects of adding Schema.org Structured Data to your HTML, but this is the first confirmation of those assumptions by Google folks that I am aware of.
To my mind there are two key quotes from Garry, firstly:
But more importantly, add structure data to your pages because during indexing, we will be able to better understand what your site is about.
In the early [only useful for Rich Snippets] days of Schema.org, Google representatives went out of their way to assert that adding Schema.org to a page would NOT influence its position in search results.  More recently, 'non-commital' could be described as the answer to questions about Schema.org and indexing.    Gary's phrasing is a little interesting "during indexing, we will be able to better understand", but you can really only drawn certain conclusions from them.
So, this answers one of the main questions I am asked by those looking to me for help in understanding and applying Schema.org.
If I go to the trouble of adding Schema.org to my pages, will Google [and others] take any notice?"  
To paraphrase Mr Illyes — Yes.
The second key quote:
And don't just think about the structured data that we documented on developers.google.com. Think about any schema.org schema that you could use on your pages. It will help us understand your pages better, and indirectly, it leads to better ranks in some sense, because we can rank easier.

So structured data is important, take any schema from schema.org and implement it, as it will help.
This answers directly another common challenge I get when recommending the use of the whole Schema.org vocabulary, and its extensions, as a source of potential Structured Data types for marking up your pages.
The challenge being "where is the evidence that any schema, not documented in the Google Structured Data Pages, will be taken notice of?
So thanks Gary, you have just made my job, and the understanding of those that I help, a heck of a lot easier.
Apart from those two key points there are some other interesting takeaways from his session as reported by Jennifer.
Their recent increased emphasis on things Structured Data:
We launched a bunch of search features that are based on structured data. It was badges on image search, jobs was another thing, job search, recipes, movies, local restaurants, courses and a bunch of other things that rely solely on structure data, schema.org annotations.

It is almost like we started building lots of new features that rely on structured data, kind of like we started caring more and more and more about structured data. That is an important hint for you if you want your sites to appear in search features, implement structured data.
Google's further increased Structured Data emphasis in the near future:
Next year, there will be two things we want to focus on. The first is structured data. You can expect more applications for structured data, more stuff like jobs, like recipes, like products, etc.
For those who have been sceptical as to the current commitment of Google and others to Schema.org and Structured Data, this should go some way towards settling your concerns.
It is at his point I add in my usual warning against rushing off and liberally sprinkling Schema.org terms across your web pages.  It is not like keywords.
The search engines are looking for structured descriptions (the clue is in the name) of the Things (entities) that your pages are describing; the properties of those things; and the relationships between those things and other entities.
Behind Schema.org and Structured Data are some well established Linked Data principles, and to get the most effect from your efforts, it is worth recognising them.
Applying Structured Data to your site is not rocket science, but it does need a little thought and planning to get it right.   With organisatons such as Google taking notice, like most things in life, it is worth doing right if you are going to do it at all.