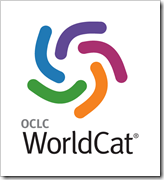 They're released!
A couple of months back I spoke about the preview release of Works data from WorldCat.org.  Today OCLC published a press release announcing the official release of 197 million descriptions of bibliographic Works.
A Work is a high-level description of a resource, containing information such as author, name, descriptions, subjects etc., common to all editions of the work.  The description format is based upon some of the properties defined by the CreativeWork type from the Schema.org vocabulary.  In the case of a WorldCat Work description, it also contains [Linked Data] links to individual, OCLC numbered, editions already shared from WorldCat.org.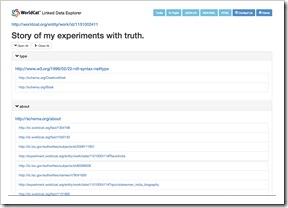 They look a little different to the kind of metadata we are used to in the library world.  Check out this example <http://worldcat.org/entity/work/id/1151002411> and you will see that, apart from name and description strings, it is mostly links.  It is linked data after all.
These links (URIs) lead, where available, to authoritative sources for people, subjects, etc.  When not available, placeholder URIs have been created to capture information not yet available or identified in such authoritative hubs.  As you would expect from a linked data hub the works are available in common RDF serializations – Turtle, RDF/XML, N-Triples, JSON-LD – using the Schema.org vocabulary – under an open data license.
The obvious question is "how do I get a work id for the items in my catalogue?".  The simplest way is to use the already released linked data from WorldCat.org. If you have an OCLC Number (eg. 817185721) you can create the URI for that particular manifestation by prefixing it with 'http://worldcat.org/oclc/' thus: http://worldcat.org/oclc/817185721

In the linked data that is returned, either on screen in the Linked Data section, or in the RDF in your desired serialization, you will find the following triple which provides the URI of the work for this manifestation:
<http://worldcat.org/oclc/817185721> exampleOfWork <http://worldcat.org/entity/work/id/1151002411>
To quote Neil Wilson, Head of Metadata Services at the British Library:
With this release of WorldCat Works, OCLC is creating a significant, practical contribution to the wider community discussion on how to migrate from traditional institutional library catalogues to popular web resources and services using linked library data.  This release provides the information community with a valuable opportunity to assess how the benefits of a works-based approach could impact a new generation of library services.
This is a major first step in a journey to provide linked data views of the entities within WorldCat.  Looking forward to other WorldCat entities such as people, places, and events.  Apart from major release of linked data, this capability is the result of applying [Big] Data mining and analysis techniques that have been the focus of research and development for several years.  These efforts are demonstrating that there is much more to library linked data than the mechanical, record at a time, conversion of Marc records into an RDF representation.
You may find it helpful, in understanding the potential exposed by the release of Works, to review some of the questions and answers that were raised after the preview release.
Personally I am really looking forward to hearing about the uses that are made of this data.